I have returned from convention full of excitement and eager to share all that I learned, but a tad on the exhausted side.  I think I managed to pick up a little gi bug during my travels and have felt a little under the weather this week.  But, as usual, the show must go on.  I wanted to share more of my pics from Inspire. Create. Share with you.
It was wonderful to get into the Christmas spirit and try out some of the new Christmas products that will be available in the Holiday Catalog. They have really out done themselves this year!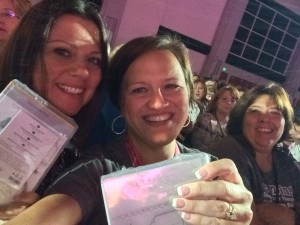 Prize Patrol is one of everyone's favorite parts of convention.  I won a stamp set, journaling cards, a new black archival stamp pad, and a new holiday designer series paper.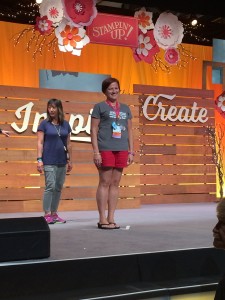 This year I was fortunate enough to get to walk across the stage 3 different times- once for earning the grand vacation, once for celebrating 10 years  with this wonderful company, and another for achieving a career milestone of $100,000 in sales.  I truly am so blessed to be surrounded by wonderful friends, customers, downline and other demonstrators that have helped me achieve more than I could have ever imagined.  I big "thank you" to all of you! And also to my family and my understanding and supportive husband who encourage me and graciously allow me to follow my heart and run this fantastic business.